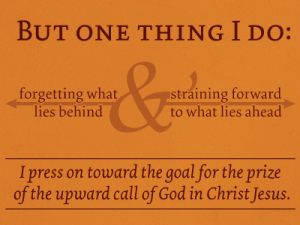 Just 30 days left until the end of the 2014. Once this year is gone, it's gone to never see again. It will be a distant memory in a few short weeks.  For some of you that sounds real good. You've been through some horrific things in 2014. The past eleven months brought pain, loss and devastation to some of you. Things you never thought would happen,  became a reality in your life.
Yes, it's something you didn't want to happen, but it happened; nevertheless. 2014 was also filled with joy, laughter and life. The whole year was not a loss. One thing is sure, you are alive and get a chance to move forward.
Brethren, I count not myself to have apprehended: but this one thing I do, forgetting those things which are behind, and reaching forth unto those things which are before. I press toward the mark for the prize of the high calling of God in Christ Jesus. ( Philippians 3:13-14)
Press towards your dreams, vision and goals. Just because that happened, is not the end of the world. Regroup and allow God to lead you. Get still and listen to what he's saying to you for this season in your life. If that happened, it was for  HIS Glory and your Good. He did it for YOU! Look at it that way.
What are you waiting for? Get busy.