Breathe Again with Nicole
Nicole lives her life on purpose. Her mission is to ensure that women are not suffering in silence, as she once was. In 2006 she founded Breathe Again Magazine, an online magazine designed to encourage, uplift, and inspire women. She is the host of Breathe Again Radio Show Podcast – A moment of Hope, Inspiration, Faith, and Solutions. Nicole believes that everything we GROW through is for someone else. Your testimony is not for you, it's for the next person who will feel what you felt and cry the same tears you cried. Nicole believes that you shouldn't hold on to your testimony, somebody's life depends on it.
Over the past few years, Nicole has authored four books, "So He Cheated, Now What?" , "So He Hurt You, Now What? – Messages of Hope to a Hurting Sister" and "Refined By the Fire: Defining Moments of Phenomenal Women" ( An Anthology ). These books are not just a random conversation, it's her journey. Sometimes the challenge felt too great to endure, however, by the grace and direction of God, she is a living testimony that you too can conquer whatever you're going through.  Nicole believes and teaches that you must have a willing spirit to submit to the Word and Will of God for your life — even in the midst of your trials and tribulations.
Her most recent release, Note to Self: Girl, I'm Proud of You is a journal which takes you on a 30 day journey of clapping for yourself. Join the Journey !! Click here to get started.

On a daily basis we make others feel exceptional. When they look good, we
compliment them. When they accomplish something, we show up to cheer them
on; virtually and in person. We spend so much time inspiring, boosting and
applauding others, we forget to clap for ourselves. THIS MUST CHANGE !
 Go on a 30-day self celebratory journey with yourself. For 30 days be intentional about reflecting, recording and clapping for yourself. Celebrate your daily successes; both big and small. Girl, You've come a long way. I'm proud of what you have overcome to be the woman you are. Now, be proud of yourself. Clap for Yourself !
Start Today !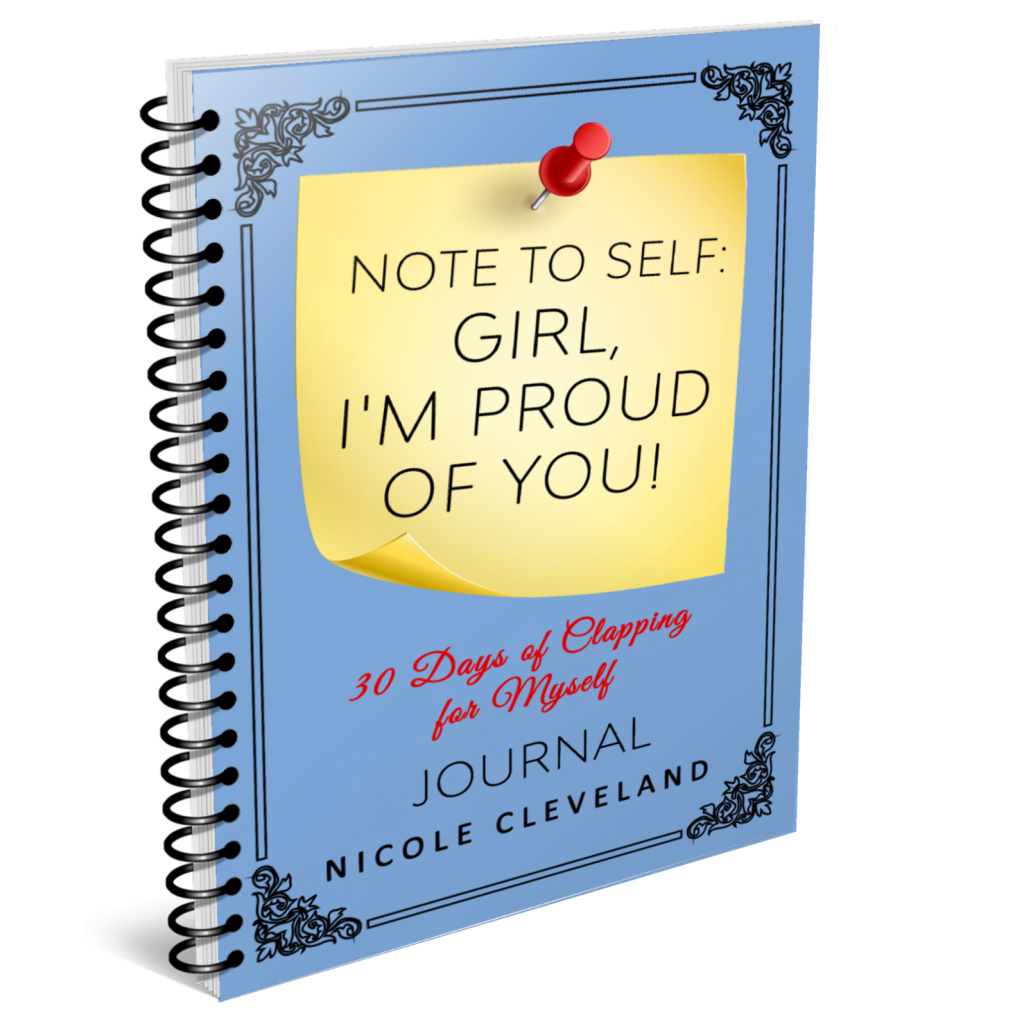 Ready to start clapping for yourself? Click here to get started !